"Eat the Twin Superheated Flames of My Quasar Pistol, Bottomfeeders from Jupiter!"
Or: Mork Shits In His Pants, While Toru Saves The Day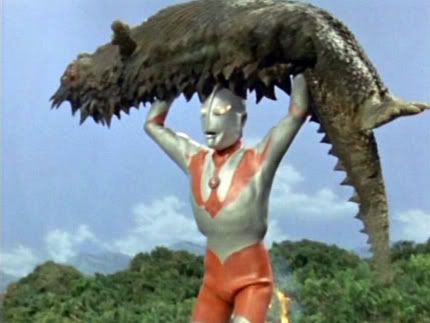 The first time he saw them descend, the sky riven with arcs of vainglorious red, Toru Strangler Itakawa could discern no cordiality in their appearance. He gambled his Christian-schooled virtues and guessed that their motivations were of an entirely barbarous design, because he'd braved enough winter sheets of gossamer rain and invested enough bright-eyed discipline into his late-hour Harajuku nights, the pistolero otaku of the arcade parlour, to recognise a badass when he saw one.
Shit if they weren't one disconcerting breed of intergalactic invader, and as any soul equipped with a cultivated learning in physiognomy would attest, no alien born from the idle dream-teemings of bong or Bosch could ever engineer a species quite so confrontational.
Never mind physiognomy; anyone enabled the apparatus for logical thought, anyone involved in and operational amongst the workaday fray, walking beneath the catastrophic loom of cloud on that Thursday afternoon in the capital of Tokyo, had to consider adopting the phrenology method when seeing these tentacled motherfuckers. Each one bore a head of bestial proportions; a Lynchian metaphor might prove utilitarian, but chalking up the frontal lobes on these extraterrestrial creeps against The Elephant Man would simply constitute an oversight. Put like this: when the creatures had finally made landfall within Shimokitazawa, parked their ytterbium-propelled multi-cylinder stealth engine, lowered the mechanised galley door and assembled with billowing appendages and leviathan features on-street, the collective topography of their cranial domes was like watching a committee of mountains jawbone on the sidewalk. Man if their faces didn't make everyone within eyeshot think of a riot of assholes.
Toru didn't harbour any sweet secret inclination to go on disdaining the galaxial Butthole Patrol, for he wasn't racially segregationist and if he was wise up against an ambit claim suggesting that he was a political subversive, he'd have told you for himself that he thought xenophobia was the charlatan responsible for creating the Zorba dance. He was an all-loving gentleman. A rosy-minded agent of lionhearted ambition. A cigarette-fuming, dragon-breathed surfer-boy sort, complete with milk-blue eyes, blonde pompadour, and laughter like a fulsome shoreline booming with the song of the sea and the chatter of a tide of clams. Let's be real. Toru was pretty beautiful; if you're willing to momentarily dismantle all sexually-elicited categories and surrender to a fleeting moment's revision of what is wholly remarkable and glorious in life, then you'd have to be ballsy enough to concede, Toru was golden with dishevelled glamour. And it wasn't in the nature of our champion, he with a professed ardour for all things friendly, to go debating the worth of a new race.
If they had arrived with fascinated and tranquil pursuits in mind, Toru would have been primary amongst those gathered 'round the circumference of the spacecraft to elect himself as their host and ambassador. As it was, the aliens erupted from the base of the vessel with baleful fishy-mouthed peepers and fat, fatuous maws transmitting their abominable gut-churning dirge, pretty much supplying everyone the necessary head's-up to rotate on sneaker-feeted heel, flock the fuck out, and run, so it's only really their extraplanterary superintelligence that can be designated blame for their downfall, an exacting plight to eradicate humanity foiled at the hands of Toru Strangler Itakawa. And shucks, what hands. The fastest fists in all of Tokyo, the quickest grip to be found in pachinko-slot palace or in Shinjuku arcadia.
Listen now, read on, and watch Toru's hands win back mankind from being monstered by the mouths of untrawled, deepest space. Those hands are like birds, and they reign down upon the unsuspecting like a descending volley of arrows.
This isn't really a B-movie romance, because our hero's a man of superlative pedigree. This is probably concerned with the day we almost all got destroyed by a siege of spacecraft, populated by animals with forested faces of antlers and tusks. But it's mostly about the semblance of valour required to stand up against the most ungovernable horror.
It's actually really about video games.
***
Insert Coins: Y/N?
One or Two Players?
Press "A" to Start
Level One: Rappongi Hills
Dig this. When the Neckties – the English conversation school underlings – shoot the breeze it sounds like they're poaching for farts. I ain't splicing the truth. At the centre in Shimokitazawa, they call me Maverick Mile, mostly because the Neckties are all genki American gaijin with sufficient facial hair between them to seduce the bride of the Wolfman, and they like to cultivate the pretence, even in Japan's capital, that they're still cocksucking pioneers of the westward frontier. But spare some love, because you can't blame them for being American or for being tourists. See, it don't matter where an American tourist is. He'll always be a cowboy.
I'm "Maverick Mile" to the Neckties because my English is rhinestone-studded – flamboyant – which they all individually are fond to attribute to their educational efforts. Hai, truth now, it don't seem an especially complex dialect, English, not when you been moonlighting at a gaijin cinémathèque in Rappongi and slinking in on your balls to the Scorsese triple-features for the past six years. Fo' sho'. To be Americandid – to speak like a jarhead gaijin – you just got to invert the structure of the sentence in your head and make room for tenses: "Toru is the possesser of an attitude of total pimpedness" dispenses with its clumsy noun-verb to become "Toru possessed a totally pimped attitude". I'm no philologist – woah, watch out homeboy! – but there don't seem nothing wrong with that first sentence. Sumimasen. A sucker can rearrange the truth in what ever way Western syntax demands it, but all the fool's doing is wardrobing it to look respectable. Thing is, words are tourists too, they pursue their own agenda. You can't make 'em any prettier just because you give them a necktie.
I'd feel one chuffed motherfucker effusing chutzpah to claim that I were thinking this particular pedigree of whizz-bang genius while scooping out two waffle cones of Aztec Gold ice-cream behind the confectionery counter in my barbershop quartet slims, but that weren't the factual actuality: the factuality. Iketeru! What I was really applying my unparalleled whoop-ass quality of investigative cunning to, was how to blindside my girlfriend from recognising that I'd forgotten to furnish flowers upon her for our one-year anniversary. Burn! I'm no insensitive, party-surfing punk, I'm a fast-hearted lover with monogamy on his lips and a prodigy between my hips. My daddy tutored me long ago on the methods to satisfy a woman, and surprisingly a great many of those involved domestic lore about clipping your toenails out on the lawn and sweeping convergences of cobwebs out with the end of a well-administered broom. Yo, I'm not a naïf, but I'm man enough to admit to my adolescent notion that a hotblooded dame wants only for a round of hokeypokey in a barn-loft somewhere, or failing that, a soaplands pleasure hotel, so my education as to feminine necessity was a little arduous. Saru mo ki kara ochiru. What I'm convinced of now, however, is the razzle-dazzle, immediate, amnesty-cultivating effects of a masterfully arranged bouquet of Parisian peonies, and I gots only my daddy to thank for those moments when I'd be otherwise foresworn to suffer a life of luckless romance.
Dig now what I'm about to impart, playa. You'd have to be a whack example of the masculine specie to neglect lavishing your sweet-footed tootsie with roses redder than blockbuster blood – aka – or lilac – ao – the lustre of a blueberry Slushie. That's the only way to woo the weeping willow, apologise to regain your size. Fo' real, or my name ain't Marathon Mile. And I was about to do just that, don't you doubt it, make a call to 555-Apologies-From-Assholes and secure myself a festoonery – booya, literati, you best watch your back! – of pink lilies, when a grip-grain Escalade crested the kerb and a gangsta in a pair of lenses crafted from his vehicle's own tinted glass, opaque as an aquarium filter's instruction manual, stepped his leopard suede onto the carpet beneath the theatre marquee.
Zakenayo! Swear to the "ho"s and hucksters in all of Rappongi Hills, dude was one mac brick-shithouse with pimp written all over him like a thousand-yen bill. O ya. I coulda shoulda woulda started kowtowing to the cornroll'd kingpin if I didn't lay a bird on the axe tattoo emblazoned on the inside of his neck. Mutha was yakuza, ate geisha pussy for breakfast, consumed cocaine like a temple-top breatharian inhaling truth. He was as tall as a Miyajima torii, with a head like a Tsukiji trout. He extinguished a Lucky Strike cigarette on his own tumescent bicep and then, wincing only while generating pleasure from the horror, that clusterfuck rasta-schmuck ate the butt, fisted it into his sneering kisser and swallowed the smokin' thing. Word, playa, it sounds gongodoodan, but I'm telling you no deceit!
The bling-decked goon, in his gold discothèque blazer, eased off his Aviators and exchanged daggers with me from across the cinema atrium. I might've squirmed and concealed myself, with a violent heart, behind the popcorn oven unit, and simulated the keening sounds of the machine's heating function with the back of my throat, but instead I maintained my footing, made a gun with my fingers and pointed it square at my noisily-attired adversary, so that he knew the nature of my grim and slaughterous soul. Pimp Bizkit nodded at me once, a subtle register chiming across his chops, and then surged towards me, a playful psychosis in his eyes. A real carnivorous creature, this heat-packing brother. He swung a bruise-mottled fist onto my counter-top. Impatience tap-danced across his forehead.
"You the resident Mr Whippy?" He over-enunciated this last phrase, slinging it harshly through the theatre's unobtrusive silence like the taut crack of the word's namesake. I busied myself by rolling up my cuffs. "I need to ask you to do me a flavour."
I understood. He wanted to hire me. I accommodated his unspoken solicitation with a dry smile. "And the order of the day?"
I coasted above the snack bar ice-cream container to ward off the undue suspicion of unoccupied patrons. "Killer vanilla," gonged the contractor, his voice as barren of love as hotel satin sheets.
I understood my purpose. Ishin denshin. Offering up a placatory palm to that spackle-jacketed lunatic, I gestured to the cinema store-room, and retreated swiftly into its dust-riven darkness. Shelves strained from the inert inventory of bulk-bargain lollies long past their expiry dates, and motes of decomposing cardboard plunged and wheeled in the dead air.
I quickly assembled my Lee-Enfield No. 4 bolt-action in the feeble light, engineering its construction with perverse dexterity. I shouldered the brunt of the rifle, fastening it to my back like a quiver of arrows, and with the gamble and swagger of the most monstrous lionfish in the fish-tank, I erupted front-of-house, all-combat, no-forgiveness...
I received a gut-churning slap in the back of my head from my manager, Mr Yasuhiro Dustin T-Bird, – a queer, runny-eyed mendicant with elastic aeroplane suspenders and a face like a horrified watermelon, – and I lampoonishly scattered entire boxes of Crackerjack all over the atrium carpet.
"Toru Itakawa! Is daydreaming a disease for you? Wake up, or I'll personally sweat the fever out of you by getting you to plumb the patrons' toilets."
Ame ni furareru! I nursed my mean, ranklesome head, and gave the boss the forks behind his back, whispering, "For king and country, bitch," under my breath.
Level Two: Tokyo Intermission
Nou aru taka wa tsume o kakusu. That's right, peeps: "A hawk with talent conceals his claws". Now, slugger, I'm requesting that you don't wig out on me when I fan out my Royal Flush. I been trying to keep the following deets on the lowdown, incognito-like, because I never saw the sense in prematurely promoting a confidential precocity. But here's the grand reveal: From Shin-Ōkubo to Shimokitazawa, from Ikebukuro to Akihabara, and throughout the chatoyant shimmer of the whole effulgent principality that is Shinjuku, – that gold prince giggling luminously through the night, – I'm the king of the games arcade.
I stalk down Tokyo's narrow-channelled labyrinth like I'm a schizophrenic outlaw or a caped crusader, with an iPod in my ear, and one million songs chanting for a moment of acknowledgement, locked fast in the electric trove of my vandal-crafted heart. I know the long, shape-shifting, bloodletting history of contemporary hip-hop like my mummy exclusively fed beat-bustin' tunes to me via the umbilicus while in gestation; I'm a reincarnated nightclub, see, because I got rhyme in my veins, two turntables for lungs, and a dance in my primordial step that's been there since I first heard my own mummy's heartbeat.
I discovered much later, when I was old enough to appreciate it, that she used to complain to my daddy for all my amniotic kicking, and ever since birth I ain't been able to shake off my doggedly perfect comprehension of rhythm. Ishi no uenimo san nen. Music haunts me now like a shadow.
So please do me a solid, friend, and sit on what I'm telling you because, for me, it constitutes an all-encompassing secret: When it involves music, I'm the fastest video games pro that's ever breathed Tokyo's frost-sharp air. My hands move so swift with the melody, it's almost criminal. Tanuki neiri. That right there's the notorious enigma surrounding the legend of Toru "Marathon Mile" Itakawa .
Now's the time you just got to chillax. Because this is where the aliens come in.
Level Three: Shimokitazawa
A
fter harbouring a rapturous headache for the lion's share of four working hours – and all the while spilling incessant streams of carbonated beverage onto my brand-package-new pink Tigers – I shuffled out the alleyway entrance of Rappongi Hills' Six-Screen Cinema Complex with a mouth dribbling ribbons of Mild Seven smoke into the effortless glow of afternoon. A haze scudded across the plane of the sky like a reckless skimming stone. What up, then, homez? I tell you now, the world above me was a nefarious shade of colour, uglier than kitsune
shit. Nemimi ni mizu
!
I quickly extinguished the cigarette onto the brickwork wall, generating a few half-hearted sprays of embers onto the flagstones beneath my pink, pimpin' feet. Then I found my groove, my jumper's hood cowling my monasterial head. With headphones snaking from the recesses of my neckline to the iPod sheathed in my tartan-patterned asspants' pocket, I shimmied up the lane to flag down my lunch-hour train. Brooding beneath the hoodie, the hackles on my neck were crackling with static. Nasty shit was up, motherfucker, and I could feel it reverberating like a bad soundtrack beneath my heels.
Within minutes on the Rappongi Hills subway platform, a JR Metro lunged from the tunnel like a heart attack, sending dangerous shudders through the fibres of my brain , but I fended it all off with a dope gangsta front, turning up the volume on my fist-gripped soundbox. The train made its glissando passage through the Metro loop, and I watched the shoulder-packed Tokyo suits with luggage accumulating in wrinkles beneath their eyes, thinking all the while Why can't I feel the music today?
Listen up, champ: As I caught the wave of disembarking office jockeys and surged out the train doors with them, thrashing for purchase, 'til I was wading creep-deep in my Shimokitazawa surrounds, it was the sound that knocked me for a delicious six, and not the sight of the abandoned spacecraft.
In the dead centre of Shimokitazawa prefecture, newly garlanded by a hundred vaporized human corpses that stunk of bubbling sulphur, was a glemmin' silver disk the likes of which I'd seen a thousand times before during my numerous 1am work stints harvesting rubbish during the sci-fi double-bill. I set my jaw, then, anticipating the ominous slap of my manager's hand, but it never came. That's when I realised what I were eyeballin' was actually physically there, a length of twelve feet away, and that the katana-hot UFO pulsing before my knocking knees was really only some hyperspatial boom-box turntable, because a music so pugnacious was oozing from its superheated carapace that you could feel the extraterrestrial vibrations rattling the earth under your shoelaces. They were blasting everyone, fo'shiz, with a cacophonous track of white noise, but before they could treat me ill, I surrendered my higher brain to the momentum of my hands. Soon my iPod was at maximum volume in deference to the craft's invading, gum-bleeding wail, and I could hear nada but a jam of classic hip-hop, such that my heart thundered with it.
In less than a phat ticket, standing before the countless pained faces of those decalcified human cadavers, I was introduced to the entire, damaged zoomorphic parade. For from within the disk's tumultuous interior, and down the lambent galley-plank came a tiger-striped rabbit the size of a dodgem car, its pink eyes cavorting about the landscape like a firefly. I was seized by a sudden crazy compulsion to deck that souped-up Bugsy, such that I'd send the jungle-juice cottontail into a motherfucking Leporidaze. Iketeru! I had to will myself to ball my fists to my hips, and leaven these to my pockets. I chewed darkly on my lower lip as the new freaks of the hill exploited their opportunity for a grandiloquent entrance. Fool, I ain't playing you when I say it felt like some taxidermist's revenge.
Before me was a giant avocet, its grim gold plumage the course texture of mohair. There was a mottled black chameleon as big as an evil armchair, with eyes like gun turrets that it obsessively preened with the windscreen-wiper arc of a distended tongue. Next, I craned my neck to best appreciate the pear-shaped sea cucumber which suddenly towered above me, its yellow, tubular anemone-like head secreting a queasy-making smell which reminded me of steaming barbeque duck. I almost didn't catch the fifth superintelligent parasite emerging from their eye-watering songship – it resembled a baseball glove, with hooves! – because I was leggin' it like spaghetti to the threshold of the nearby music store along Awa-Odori, the district's main street, my head low like a moon-fed rose, and my Tigers vaulting over concrete.
I guess I expected that surly hurly-burly to cop my steezy, and come after me in pantomime pursuit, munching their Martian mouths and shitting out their musical discordance, but I didn't reckon with their unanswerable nonchalance. I stormed through that Setagayan shopfront, sending the doorbell clapping, and exercised a stealthy surveillance through the crowded emporium window. Them outerspatial suckers were noncing about the underside of their spacecraft, fiddling with their wine-souring frequency so that their turbulent tunes were amplifying over the breadth of the district. I clamped my palms over my ears, and sneezed.
So this is how they'll get me, send me duking into the gutter with my eyes screaming for silence. Clown, I wouldn't allow myself to be so easily seduced from foregoing my mortality – not me, Marathon Mile! – and certainly not for this bitter pack of brats and Fraggle Rock critters. Hip-hop jangling clammily beneath my skin, I swept towards the store counter, and slammed the heel of my palm into the woodwork. Without warning, the clerk-twerp behind the desk was completely skeletal, with folds of flesh stripping off him like ceiling paint. I gagged immediately, fearing I'd blow chunks, my hands on my guts and my face buried into my sleeve.
This was a full-blown nightmare, now, and I couldn't shake off the sweat of decay beading my brow. I pivoted 'round with spastic abandon, barren of equilibrium, and saw the Moog Moogerfooger M-105 music synthesizer trembling like providence on a rack. I lashed it to my back, sheathed a Marshall MS-2 Mini amp at the belt-loop of my pelvis, and jacked the assembly cables into a power socket, before descending upon a set of wide-headed, handheld taiko drums. The bachi sticks were already in my hands before I felt the deep-bass beat stampede through me, and then I was stomping like one dope motherfucker through the swing-door, with the crown of my head unhooded and my pompadour bouncing like the mercury in a thermometer.
I turned the amp to 11, and brought the sticks down on the skins. I could feel the plangent feedback loop being generated in real-time, before trawling through the chop and churn of the district's hissing soundscape. "For king and country, bitch," I crowed, letting my parlour-game hands set the scene. Ame futte ji katamaru.
The mutant sea cucumber farted its intestines out through its head, and yet deep in me, one billion fathoms below the surface, I called up the doomsday hymn, and it bloomed fuzzily within like a mushroom cloud. Dig this. I busted out an incendiary sort of freestyle. I drummed the stars out of the sky.
I think my girlfriend will understand about the flowers. Fuku sui bon ni kaerazu.
After all, life ain't a B-movie romance. It's actually really about video games.
Play Again: Y/N?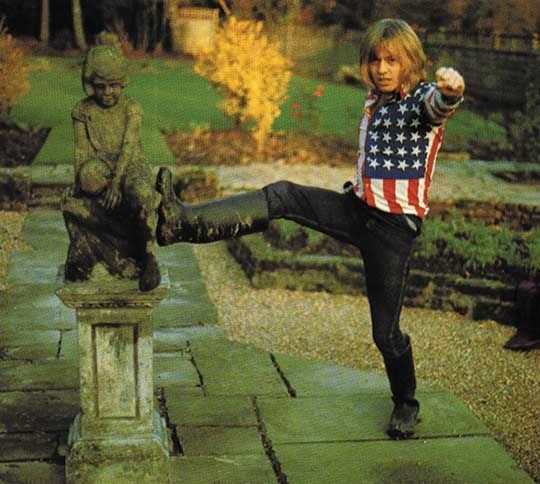 ¶ This short-story was previously published in the December issue of The Seahorse Rodeo Folk Review (Portland, 2010), and has been used as literary curriculum for teaching fiction by the University of Saskatchewan's Interdisciplinary Centre for Culture and Creativity.